COMPANY HISTORY
Over 100 years ago, the company known today as KTL Offshore was established as Kim Teck Leong and operated as a ship chandler and trader from the Tanjong Rhu area on the Kallang Basin in Singapore. Today, Tanjong Rhu is the site of a modern residential area and Singapore's impressive Sport Hub Stadium – perhaps reflecting a similar transformation of the company from the humble Kim Teck Leong beginnings to a modern day, world leader in the heavy lift and rigging industries.
The transformation was not always easy – during our history, Kim Teck Leong survived two world wars – including an aggressive military occupation of Singapore from 1942 to 1945 - as well as numerous economic downturns, changes in market dynamics and the transition of Singapore from British colony, to Malaysian Federation, to independent city – state. The tenacity of our company is etched in our history, which is unrivaled in the rigging industry in this region.
But although the modern KTL Offshore is a far cry from the early day trading and provisions shop of a century ago, we remember our humble, historical roots: our trademark brand names for our specialized products and services all carry the prefix Kim and the names of KimFlexTM, KimLockTM, KimSpoolTM, KimTestTM, KimLoftTM and now KimLiftTM have become synonymous with the highest standards of quality and reliability in the rigging industry all over the world. A true tribute to our founders and stakeholders of the past 100 years.
After four generations of exclusively family ownership, in December 2007, KTL Offshore listed on the Singapore stock exchange (SGX) Main Board under the holding company of KTL Global Ltd, in order to embark upon a global expansion strategy. The KTL Offshore group now comprises of several companies with a global footprint.
Our Singapore operation is the location of our senior management, administration, sales and synthetic sling production. KTL Offshore Pte Ltd is also responsible for the R&D of all synthetic products, including the new ground breaking KimLiftTM high performance round slings.
In Indonesia, PT KTL Offshore was established in 2008 with a service facility in Batam; followed later on with a sales office in Jakarta. Our Indonesian business remains an important element in maintaining KTL's service footprint in the SE Asia region.
In the United Arab Emirates (UAE), our manufacturing and testing facility covering 10,000 square meters was established in 2010 in the expanding Hamriyah Free Zone. Equipped with heavy lift sling and grommet manufacturing capability and a testing facility of up to 1,000 metric tons, KTL Offshore (Middle East) FZC has quickly established itself as the premium rigging solution provider in that region – and also a significant contender in the European heavy lift market.
Our newest facility is a 25,000 square meters manufacturing plant located in Tanjung Langsat in Malaysia, 45km by road from Singapore. It commenced business in mid 2015. This facility is equipped with our unique KimTest 3000 test bed, capable of a maximum test load of 3,000 metric tons and able to accommodate slings of up to 200 meters in length – one of the most potent sling testing facilities worldwide. With full heavy lift sling manufacturing (up to 600mm diameter) and testing capability, KTL Offshore (Malaysia) Sdn Bhd is one of the world's powerhouse rigging facilities.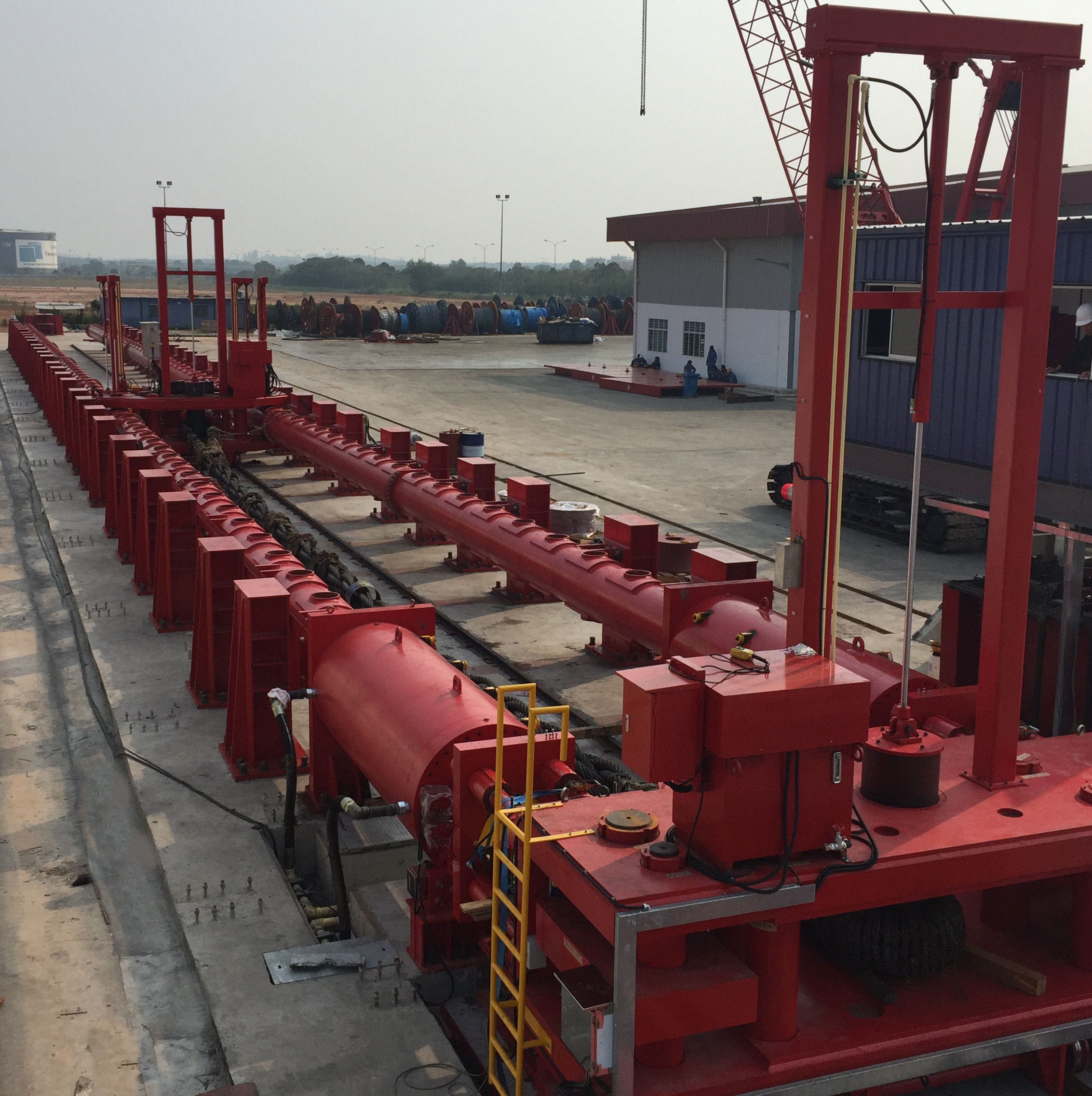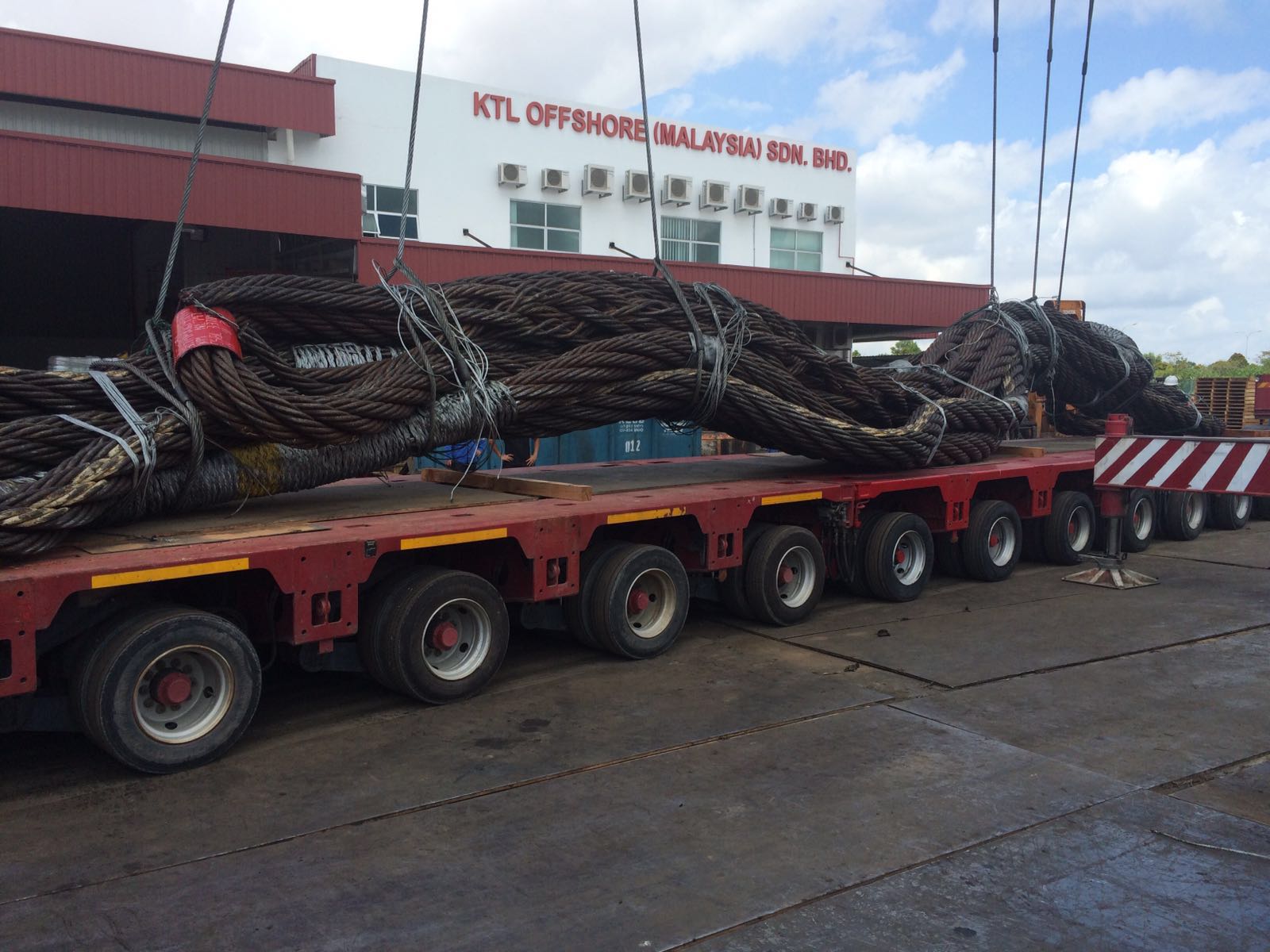 KTL Offshore has set up formidable supply chain relationships with our trusted partners, who have stood by us or joined us along the way on our growth trajectory. These include respected brands such as Usha Martin, Kiswire and Crosby. In addition, we have established key rigging partners in Brazil (Fuertes Industries) and Mexico (Procarga S.A.) which provide access to these attractive markets and brings them closer to Singapore.
Since manufacturing and supplying our first heavy lift slings (13.8" dia KimFlex slings) for the Nine Wells project in 2004, KTL Offshore has built up an enviable track record in building slings and grommets for the world's largest and most demanding offshore heavy lift contractors. Please see our project references further on in this website for more details.
As we navigate our way through an unprecedented turbulent business environment in the Oil & Gas industry, KTL Offshore remains focused on our main mission: to build the largest synthetic and steel slings the world's heavy lift industry demands; to the highest quality standards; as well as to be a trusted solution provider in any industry that requires our services and products related to their rigging, lifting and mooring needs.
KTL's trademark logo through the years: