News And Events
Heavy Lift Slings And Grommets Manufactured by KTL Offshore Get The Job Done In The North Sea Using One Of The Largest Cranes In The World!
September 01, 2016
GINA KROG PLATFORMS SUCCESFULLY INSTALLED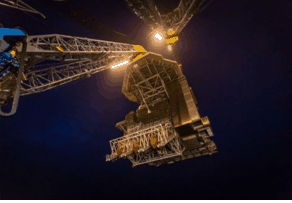 The top decks of the Gina Krog platform were installed in late June in less than a week using the Saipem 7000 installation vessel. The complete weight of the platforms was around 20,000 tons. KTL Offshore supplied the heavy lift slings and grommets for the lifting of the living quarters, main support fame, process module and utility modules.
IVAR AASEN TOPSIDE LIFT COMPLETED SUCCESFULLY
In July 2016 the topside platforms for the Ivar Aasen project were successfully installed by the Saipem 7000. Approximately 15,000 tons of platform were lifted using cable laid slings and grommets manufactured by KTL Offshore. First oil from this project is expected in December 2016
Both projects used the Saipem 7000 semi-submersible crane vessel - which uses twin 3,500t cranes - to perform the heavy lift. This vessel is currently listed as the world's second largest crane vessel, after the DCV Thialf operated by Heerema. The cable laid slings and grommets were manufactured and tested at KTL Offshore's Tanjong Langsat facility in Malaysia. All slings and grommets were individually tested to ensure the stringent length tolerances were achieved.
OFFSHORE TECHNOLOGY CONFERENCE 2018

April 18, 2018

OFFSHORE TECHNOLOGY CONFERENCE 2018 EXHIBITION HOURS : Monday, 30 April 0900 - 1730 Tuesday, 1 May 0900 - 1730 Wednesday, 2 May ...

Notice : Relocation Office

February 15, 2018

We are shifting office this month! During the relocation period from 9th February till 23rd February, you may be unable to contact us on our usual direct line number. Please do continue to contact us via email or our mobile lines. Our new address is 7 Gul Road Singapore 629364 with effect from Friday 23rd...

KimLift Heavy Lift Synthetic Slings Used Successfully In Inpex and Prelude Projects

October 01, 2016

KTL Offshore's ground breaking KimLift synthetic slings were used to complete two offshore heavy lift subsea projects in recent months. For the Inpex project the largest KimLift slings (KLX-499)had an MBL of 1,998 MT and were used to lift and lower complicated SURF equipment. For the Prelude project, the KimLift slings...