News And Events
KTL Slings Lift the Largest Offshore Tie-In Platform in the Arabian Gulf – 3,500t!
August 01, 2016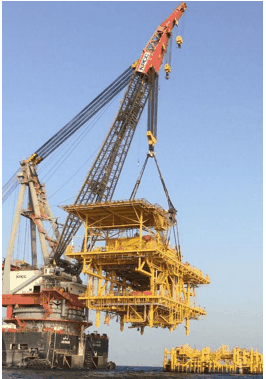 Saudi Aramco announced it had completed Saudi Arabia's largest ever offshore tie-in platform, the Marham TP-9 deck. The deck was then installed offshore and the lift was completed using cable laid slings manufactured by KTL Offshore (Middle East) FZC.

The facility is part of Saudi Aramco's programme covering the manufacturing and installation of four oil producing platforms and associated pipelines and power cables.

According to press reports, Saudi Aramco reported that "The completion of the massive 3,500 tonnes structure represents a major milestone for Saudi Aramco's strategy to develop its offshore oil resources and to sustain the in-Kingdom manufacturing capabilities.".

The cable laid slings were designed, manufactured and tested at KTL's rigging facility in the Hamriyah Free Zone in the U.A.E. The slings were made to IMCA M179 to exceptionally tight length tolerances.
Click here for project reference
Sustainability Report

December 28, 2018

Pleasure to present our 1st Sustainability Report for the calendar year ended 31 December 2017 (CY2017). Sustainability Report (Period covering 1st Jan - 31 Dec 2017) Please Click here for details.

OSEA Exhibition

November 15, 2018

OSEA Exhibition on 27 - 29 November 2018 Visit us at Booth BH3-07 We will be exhibiting at OSEA 2018 - come and visit us to see our new Black Mamba towing strops as well as our heavy lift range of synthetic and steel slings.

OFFSHORE TECHNOLOGY CONFERENCE 2018

April 18, 2018

OFFSHORE TECHNOLOGY CONFERENCE 2018 EXHIBITION HOURS : Monday, 30 April 0900 - 1730 Tuesday, 1 May 0900 - 1730 Wednesday, 2 May ...